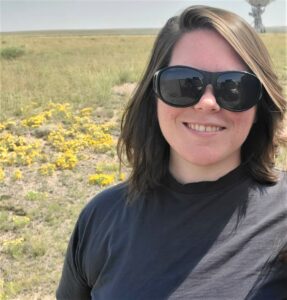 Hilary DeVries
How long have you been rehabilitating wildlife?
I have been working in the wildlife rehabilitation field for almost 7 years. I started out as a volunteer at a wildlife rehabilitation center and through the years, made my way up to getting my CWR certification. I am currently a staff wildlife rehabilitator at the New Mexico Wildlife Center.

 
What is your favorite animal you work with?
My first thought was raccoons but unfortunately, current regulations in our state prevent us from rehabilitating them. My other answer would have to be squirrel and songbird babies. Each species (and individuals within that species) have their own personalities! Some of my favorite babies to work with include rock squirrels, spotted ground squirrels, Canyon and Spotted Towhees, and Western and Mountain Bluebirds.

 
Did you always know you wanted to be involved with wildlife?
When I was young, I was interested in lots of things, animals included. It wasn't until college when I started volunteering at a wildlife rehabilitation center that my interest in wildlife, husbandry, and veterinary care grew.

 
What is an animal you dream to work with?
I hope to someday have the opportunity to work with marine mammals and get more exposure to shorebird rehabilitation.

 
Do you work with other rehabbers or do you work independently?
I work with one other wildlife rehabilitator at my center who has her CWR certification as well. There are other rehabilitators throughout New Mexico that we work and communicate with regularly.

 
Do you work with all species? If no, which groups of animals do you concentrate on?
Songbirds make up the most of our numbers, but we work with all wildlife (with the exception of raccoon and fox).

 
I have two cats (Dottie and Oliver), one dog (Leif), and some guppies.

 
What are some of your hobbies?
I enjoy hiking, reading, guitar, piano, and cooking. Once quarantine is over, I'd like to start going back to my kickboxing gym.

 
Do you volunteer for other organizations?
No, I don't have very much free time at the moment.

 
If you could travel anywhere in the world specifically for wildlife sighting, where would you go?
If I could go anywhere, I'd go to the deepest parts of the ocean in a submersible to see all of the fascinating creatures down there!