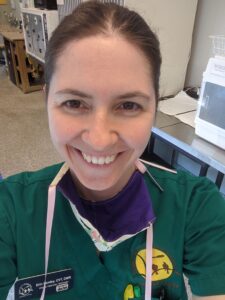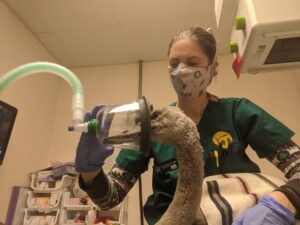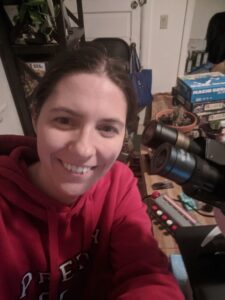 Erin Lemley
How long have you been rehabilitating wildlife?
What is your favorite animal you work with?
It's so hard to decide! I work at a generalist center so we see lots of species. I love American Crows, Red-tailed Hawks, woodchucks, and common snapping turtles. This year we also got a few American bullfrogs and they were amazing patients!

 
Did you always know you wanted to be involved with wildlife?
I didn't, actually. I have always loved animals but didn't fall in love with wildlife rehabilitation until I started volunteering at my local wildlife center after I graduated college. I was trying to decide if I wanted to apply for veterinary school. I fell in love with wildlife rehabilitation and decided to become a Certified Veterinary Technician and a Wildlife Rehabilitator instead. I am now the Wildlife Veterinary Technician at Dane County Humane Society's Wildlife Center. I really love the medical and scientific aspects of my job.

 
What is an animal you dream to work with?
West Indian Manatees! I'd love to do some work in the southern US with them.

 
Do you work with other rehabbers or do you work independently?
I work at Dane County Humane Society in Madison, Wisconsin, USA, which has 6 full-time rehabilitators. So I have a great team supporting me! I we also stay networked with other centers and independent rehabbers in our area to make sure wildlife can get the care they need.

 
Do you work with all species? If no, which groups of animals do you concentrate on?
We work with most native species of birds, mammals, reptiles, and amphibians and so are pretty generalist!

 
I have two cats, Devon and Jonas.

 
What are some of your hobbies?
I like to read, play board games and video games, knit, and do habitat restoration in my free time.

 
Do you volunteer for other organizations?
I volunteer for several urban habitat restoration projects in my neighborhood–I love developing habitat for our wildlife where I can walk and bike by on a regular basis. This winter I am also volunteering for the first time on a chloride monitoring project in one of my local creeks. It involves taking water samples after road salt applications to see how the salinity is affecting our local watershed, which is pretty cool.

 
If you could travel anywhere in the world specifically for wildlife sighting, where would you go?
Ooh, this is a hard one. I think Australia, though. Because there's great opportunities for exploring reefs and ocean wildlife as well as some of the weirdest terrestrial wildlife on the planet!